VMCC DARTMOOR SECTION TREASURE HUNT 2018
When was the Torcross tank Memorial set up?
What's the pub in Prawle called? (Photo of your bike outside please)
When did the Pilgrim Fathers leave the quay in Dartmouth?
A picture of your bike in Coombestone tor car park.
Official mileage to Buckland in the Moor from Widecombe Green?
When did Haytor visitor centre open?
Whom does the Memorial on "The Plains" in Totnes commemorate?
When did he "perish"?
A picture of your bike outside the Dartmoor Inn, Merrivale.
Between which dates was RAF Harrowbeer at Yelverton operational, according to the memorial stone?
Who is the third person alphabetically to be commemorated on the Tavistock War memorial?
What was Lydford castle used for in medieval times?
At the junction of the A382 and the Exeter Road (old A30), how far is Sticklepath officially?
When was the new bridge at Two Bridges opened?
What is that bridge called?
Whose is the fifth name from WW1 on the war memorial in Moretonhampstead?
On the Salcombe war memorial, whose surname begins with a V on the south side?
What do the numerals of clock at the Church of Buckland in the Moor spell?
A photograph of your bike with the daymark at Kingswear in the background
What is the year shown on the old Torcross Hotel building?
Have fun and ride safely, enjoy our first treasure hunt rally
Send your answers and photos to;
VMCC Dartmoor Treasure hunt
c/o 33 Green Park Way
Chillington,
Kingsbridge
TQ7 2HY
*Special offer VMCC Dartmoor Polo Shirt – Click here for more details
At our September committee meeting it was decided to donate £150 to a good cause local charity, our chosen charity was The Shekinah Mission.
Shekinah is a Devon based charity that provides opportunities for people in recovery or seeking recovery. This may include recovery from homelessness, drug and alcohol issues, offending behaviours or mental ill health. We have a range of projects across a number of locations and we provide a safe space for people to develop their skills, regain their self-worth and go on to live independent and fulfilling lives.
On the 6th December we received a rather nice letter as follows;
Dear Mr French,
On behalf of Shekinah, I would like to thank you for your kind donation of £150.00 on 15th of November 2017. We are grateful for your support, kindness and generosity. It really is important for the clients to know that, kind people in the local community, think and care about them.
Shekinah is a charity, which has been working to help socially excluded and disadvantaged people since December 1992.  Now into our 25th year, with the help of supporters such as you, Shekinah has been able to support those with complex needs into healthier, less chaotic lives.  Those issues include homelessness, drug and alcohol misuse, offending, mental ill health and long-term unemployment.
People accessing our services in Plymouth and Torbay gain in personal development, confidence, training and general health.  This has a positive impact on both the individuals themselves and the community at large.  Shekinah seeks to break the chains of negative lifestyles, repeat offending, homelessness and unemployment.
Our aim is to give encouragement to the socially excluded, helping them to realise their full potential, move forward in their lives and have the best chance to bring real and lasting change in their lives.
Therefore, we thank you sincerely for being part of 'building lives and futures' with Shekinah.
Kind regards
Pat Andrews
Shekinah
Useful fixes and Tips
Dartmoor Section are a resourceful bunch – if it can't be fixed with string or gaffer tape it must be serious!!
Arthur Curnow of Brixham sent these two images of his hill climbing 500cc Cooper days.
The pictures were taken in 1964 at Trengwainton hillclimb in south east Cornwall.
The car is a CHS, Charlie Hayward Special. It was developed from a Cooper when Hayward built his own chassis. The engine is an iron barrel 500 Norton International that is inclined backwards so that the carburetor is level. The engine ran a mix of 80%Methanol, 10% petrol and 10% benzine. Later Arthur used the car with a 500 Norton Manx engine which would have formed the same basis as the early 50's Formula 3 race cars.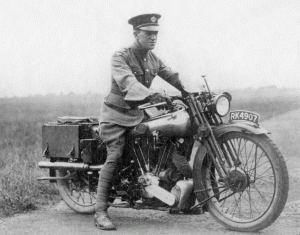 Lawrence on the Brough Superior he called George V
'Its usually to my satisfaction to purr along gently at 60 mph, drinking in the air and the general view. I lose details even at such moderate speeds, but gain comprehension. When I open out a little more at 80 or so, I feel the earth moulding herself under me. It is me piling up this hill, following this valley, stretching out this level place. It is the reward of speed'
-T.E. Lawrence 1927
Club Members Motorcycles
NOTES ON MATCHLESS
My Matchless is a 1929 350cc side valve model T4. The frame, engine and remnants of front forks were purchased at an Auto jumble in Newton Abbot in xxxx.  My intention was to build a vintage motorcycle that I could use for general running around and for it to be reliable. It did not have to be in concours condition or to be strictly correct. The rebuild took about xxx years to build. To keep the costs to my budget I have used a BSA tank, made my own tin-ware, used Honda wheel hubs. The machine is a good look alike and has proven to be 100% reliable. It travels at about 40mph, 90mpg and once took part in an open air Shakespearean production of 'A Winter's Tale' photograph attached with the actor.
Norton Commando Electric Start – Too Old to Kick
A few years ago I purchased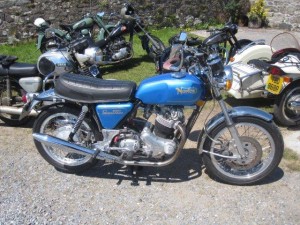 a 1974 Norton Commando 2A which had been modified and had a high 9:1 compression ratio. It is a great looking bike and really fun to ride, but trying to start it from cold, and restarting when hot, became more and more difficult.  This became such an effort that I was discouraged from using this wonderful machine on a regular basis. Having decided this was a mechanical issue and not one of personal decrepitude, I researched a variety of solutions. For me, the way forward was to install an electric start and electronic ignition.
In 'The Classic Motorcycle' magazine I saw advertised electric start upgrades for 750 and 850 Commandos that were produced in France by a company called Alton (www.alton-france.com). When I checked their website, it became clear that this was a professionally engineered product that did not compromise the existing unit, and retained the original kick-start option. The whole installation was based on replacing the existing inner half of the Norton primary chain case. The process could be easily reversed if the bike fell into the hands of a purist who did not want an electric start. (Alton also produces electric start kits for other classics, such as Velocette Venoms). When I contacted Andover Norton, who are the Alton agents in the UK, I was informed there would be a three month delay.
I decided  to use this as an opportunity to identify any snags that might occur with the installation. Alton specified a 12volt 18a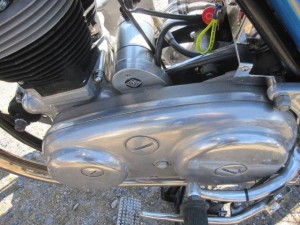 mp battery. This is the physical size used on Harley-Davidsons! In my opinion, installing this would be totally inappropriate and virtually impossible to fit on a Commando. Alton's reasoning for an 18amp battery is that their unit requires a 65amp current to energise, and hence turn the Norton's crankshaft at the required starting speed. I decided to research new developments in battery technology. I sourced an ODYSSEX 12 volt 8amp battery with a 100amp cranking current which was more than sufficient to satisfy Alton's requirements. Importantly, the physical size of this unit fits nicely onto the existing battery tray – problem solved!
Having had a number of faults with the existing Commando ignition; points, coils and wiring, I decided to start from scratch. I replaced the existing coils with new items that I ordered from those nice people at Andover Norton. Turning my attention to the fiendish electronic ignition, I eventually decided to source the unit from the antipodean New Zealand company 'Pazon'. They were extremely helpful and knowledgeable, producing a wide range of ignition products (www.pazon.com). I chose to fit a Pazon Altair digital unit, which is their latest product, is very competitively priced and comes with a 7.5 year warranty.
In conclusion, my Commando is now back on the road and starts perfectly! It has the bonus of greatly enhanced acceleration and top end speed. I feel I now have the best of both worlds, a classic machine with the refinements of modern engineering, which I can continue to ride for many years to come.